Eukanuba DentaDefense
Helping to keep teeth clean and healthy with every bite
Try today with our £2 off voucher*, find out more below.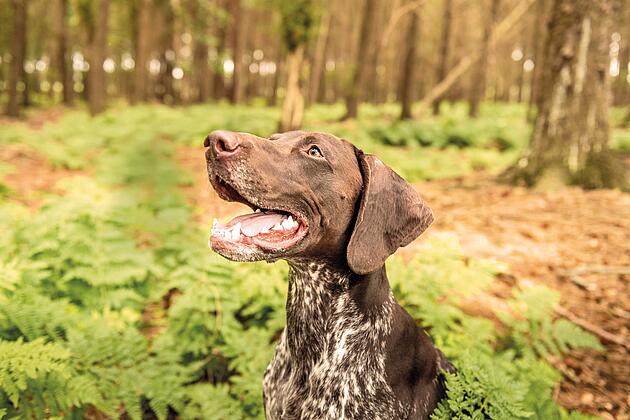 Introducing EUKANUBA DentaDefense
EUKANUBA foods feature a special kibble shape together with unique DentaDefense to help keep your dog's teeth clean & healthy. This helps to prevent plaque build-up which would otherwise turn into tartar*.
*Applies to EUKANUBA Dog products, excluding Daily Care Mono-Protein and some Puppy foods. Results in dogs may vary
Why is dental care in dogs so important?
Dental disease is the most common clinical condition among dogs so it is important to feed your dog with a diet with dental benefits.
Special kibble shape combined with EUKANUBA's DentaDefense means that each bowl will keep your dog's teeth clean. Our recipes** include a special mineral, known as SHMP, or Sodium hexametaphosphate. This mineral supports clean and healthy teeth through binding minerals while chewing and therefore helping to reduce the mineralization of plaque to tartar, supporting your dog's dental health in the long-term.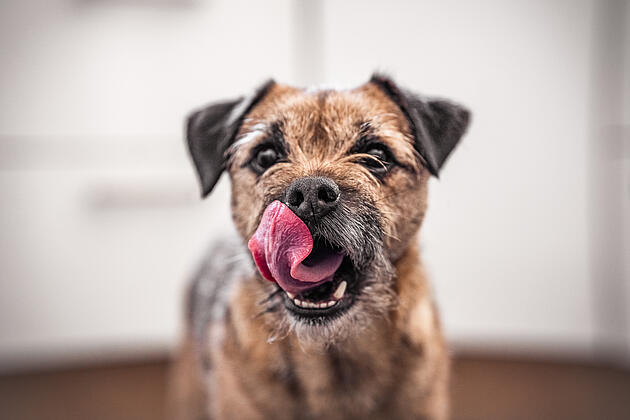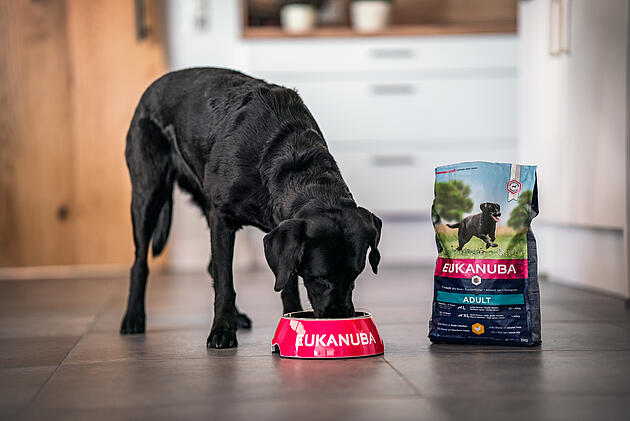 Why feed Eukanuba?
EUKANUBA has over 50 years of expertise in tailored life stage nutrition. We offer nutritional support to keep your dog in optimal body condition.
Our range of high-quality tailored recipes keep your dog in optimal body condition and fuel peak performance throughout their life.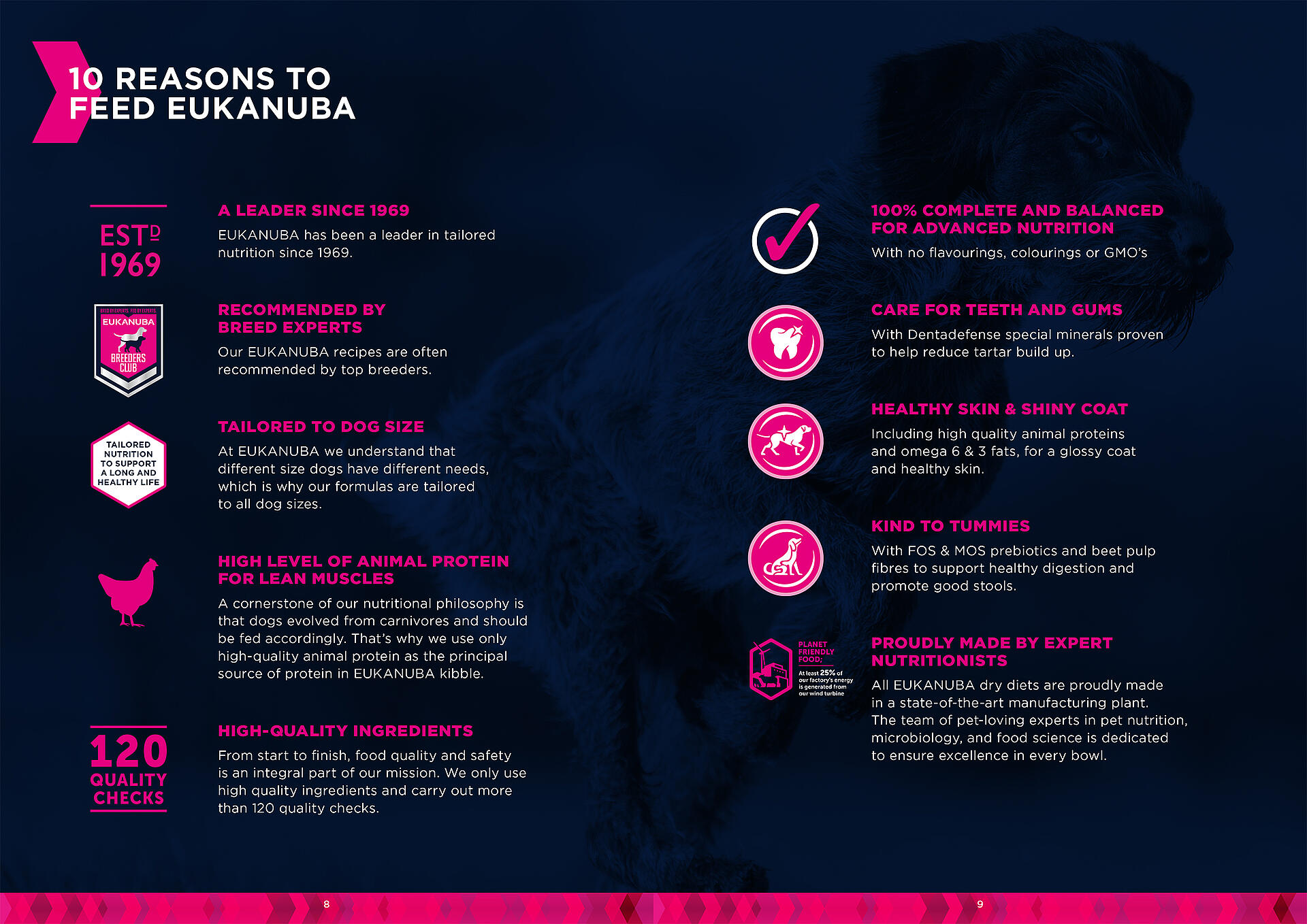 Does Eukanuba offer life stage range support?
Yes, EUKANUBA has a life stage range which support lifelong wellbeing. Eukanuba takes a tailored approach to nutrition that builds from one life stage to the next. Supporting the nutritional needs of dogs from Puppy through to Adulthood, and later from Mature to Senior. Providing short-term and long-term benefits for a better lifelong impact.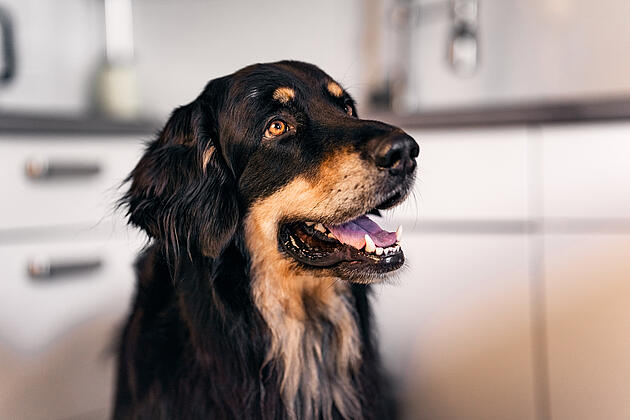 What our customers say
Super product for puppies younger than 8 weeks. Take it for years and the puppies are healthy, fit and have beautiful piles..
Amazon Customer
I bought the EUKANUBA based on a recommendation. My dog loves dry food and doesn't get flatulence from it either. This makes the food very compatible for my dog. I used to have a different dry dog food (also grain-free, but more expensive) and have now changed. Everything's great.
Amazon Customer
The packaging is done really well and sturdy which makes it quite easy to keep the food fresh. About flavor, my pooch likes it so it's good.
Thanks
Amazon Customer
Great product, I have it on subscription and since I started using it, my dog has a much softer coat.
Amazon Customer
I think you can get a good food here for a reasonable price. Some of them broke some bite. A dosing spoon/shovel in size would be appropriate!
Amazon Customer
Great quality food for very reasonable price! I will definitely order again! Thank you
Amazon Customer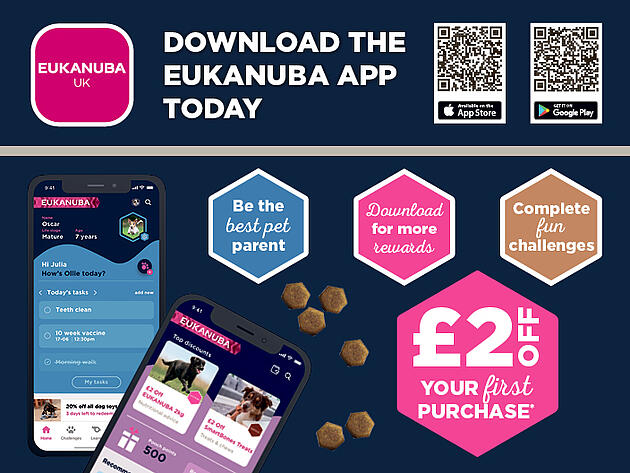 How do I try EUKANUBA?
Use our store locator below to find your local store. We're also giving away a free £2 off voucher for your first purchase, to redeem this, simply download our EUKANUBA app on either theAndroid or Apple App Store and you can redeem your voucher against a EUKANUBA 2-3kg bag**. Try today and if you are not 100% satisfied then you can claim back via our money back guarantee.
**Voucher terms and conditions apply which can be found on the app. Download the EUKANUBA app and redeem a £2.00 off voucher to use on your first purchase. The voucher expires on the 31st March 2024.
Where you can buy EUKANUBA